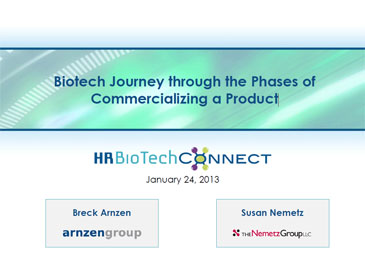 On January 24th, 2013, the HR BioTech Connect group held our monthly meeting at Joule in Bedford, MA. We were treated to an excellent presentation from Breck Arnzen of the ArnzenGroup and Susan Nemetz of The NemetzGroup.
Their topic was "Biotech Journey Through the Phases of Commercializing a Product."
During the presentation, attendees had the chance to learn items such as
Industry trends impacting biotech companies
Challenges and obstacles facing leadership teams with actual observations
Strategies to move successfully along the clinical and commercial development continuum
Organizational alignment approaches to facilitate effective governance
And more!
Download Presentation Slides
Would you like to receive a copy of the slides from this presentation? Please contact Jeanne Nicholson via email or by phone at 781-759-1222, ext. 230.