One major benefit that we offer to members of HR BioTech Connect is access to HR360. This online HR library is provided to you at no cost, courtesy of CBG Benefits (a $397 per year subscription).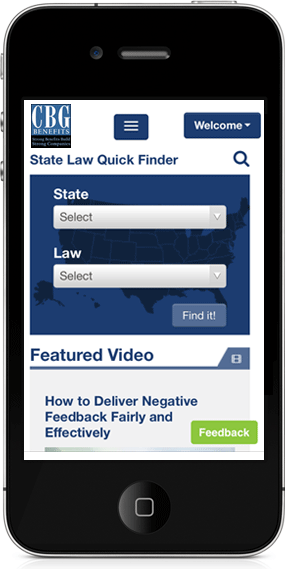 A number of new features have recently been released to this tool that will make it easier than ever for your company to understand and meet its compliance requirements. Below is a brief overview!
(Would you like to receive access to HR360? Please contact Jeanne Nicholson!)
Easily Access Compliance Resources On Your Mobile Devices: With a new responsive design, employers may now easily navigate, search, and review information from the online compliance library via their mobile device. All the information provided in this tool is now accessible on any size screen from your smartphone, tablet, laptop, and desktop.
Quickly Navigate Through the Main Menus: New drop-down menus have been added to the top navigation  menu. This means that it's now faster and easier for employers to access information within sections such as "Employee Benefits", "Health Care Reform", "Recruitment and Hiring", "Discipline and Termination", and more.
Improved Compliance Education with Online Videos: The content within this online HR library has been enhanced with the addition of more videos. It's now easier than ever to learn and consume the HR compliance guidelines within the site.
Enhanced Search Capabilities: We recognize that this site is often used by employers who are hunting for answers to specific issues or questions. The search engine built within the site has been enhanced to make it easier for users to find exactly what they're looking for.
---
HR360: Brief Overview
If you have not yet used HR360, here is a brief overview what this solution provides:
Online access to an award-winning Human Resources library, which delivers everything you need for successful employee management
Innovative HR tools, forms, Health Care Reform and benefits news, posters, and more
Step-by-step interactive guides on hiring, disciplining and terminating employees
Time-saving interactive tools including a job description builder, salary benchmarking tool, employee cost calculator and HR self-assessment modules
Federal and state required downloadable posters
Customizable sample Employee Handbook
Up-to-date info on your state's specific employment laws
---
Get a Demo and Sign Up for HR360
If you would like to learn more about how your company may utilize HR360, please contact Jeanne Nicholson today!
Jeanne would be happy to get you setup with a free user account. In addition, we'd be happy to provide a brief demo to walk you through the key features of the site.