All members of HR BioTech Connect are invited to attend our next group meeting on June 16th, 2016. We are quite honored to announce that Radford will be conducting this meeting. They will be sending three speakers to deliver a presentation on the topic of "Navigating Employee Rewards Strategies in a Volatile Market".
---
Date/Time:
Thursday, June 16th, 2016
Registration/Networking: 8:30 a.m. – 9:00 a.m.
Presentation: 9:00 a.m. – 10:30 am

Theme:
"Navigating Employee Rewards Strategies in a Volatile Market"

Speakers:
Rachel Cohen: Associate Director at Radford
Aria Glasgow: Associate Partner at Radford
Edward Speidel: Partner at Radford

RSVP and Location: To reserve your seat and to receive specific location information (the meeting will be held in Waltham, MA), please contact Jeanne Nicholson.
---
Event Description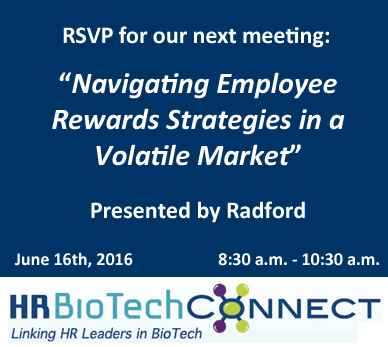 Biotechnology and pharmaceutical companies are facing significant challenges when it comes to retaining the talent they need to drive innovation. A volatile stock market has further complicated matters with many employees now holding underwater options.
At this HR BioTech Connect meeting, our expert guest speakers from Radford will provide an overview of trends in the highly competitive Boston marketplace and insight into the ongoing war for talent. They will discuss important cash and equity compensation strategies and talent management approaches that will reinforce retention. Given the steep drop in values in the industry, equity strategies will be an important component of the retention discussion. Radford will also discuss some of the innovative perquisites and work/life differentiators life sciences companies are using to attract and retain millennial employees.
During this presentation, the speakers will cover items such as:
Examining recent compensation and talent trends in the Boston market place
Understanding how to address retention of key talent in today's environment
Building stronger alignment between total rewards programs and retention outcomes
Using career progression/job-leveling tools to drive employee engagement and retention
The evolution of compensation programs, vehicles and mixes throughout a company's life cycle
Hot perquisites for millennials
RSVP Today:
To register for this event and to receive location information, please email Jeanne Nicholson at JNicholson@CBGBenefits.com.
About Our Speaker
Rachel Cohen:
Rachel Cohen is an Associate Director at Radford where she focuses on executive and broad based compensation. Areas of specialty include short- and long-term incentive plan design and total rewards strategies. Rachel works with US and global technology, biotech and medical device companies. She has ten years of compensation consulting experience.
Prior to Radford, Rachel worked for Pearl Meyer focusing on general industry employee pay and executive compensation.
Rachel earned a Bachelor of Business Administration in strategic management from Babson College in Wellesley, MA. She is a member of WorldatWork and received the Certified Executive Compensation Professional (CECP) certification.
Aria Glasgow:
Aria leads the employee compensation consulting practice in Radford's Boston office, where she advises company leadership on compensation issues and creating pay programs tailored to each organization's unique needs and culture. She specializes in broad-based employee compensation, including total rewards strategy and analysis, career progression/job leveling, salary structures, incentive plan design and implementation/communication tools.
Aria has more than 20 years of consulting and corporate human resources experience, partnering with company leadership in a wide range of industries, including technology, life sciences, health care, and various not-for-profit entities. Prior to joining Radford, Aria held consulting leadership roles at Sullivan, Cotter & Associates and Pearl Meyer. She is a frequent speaker at industry events, and has been published in Workspan Magazine and WorldatWork press.
Aria has a Bachelor of Arts in accounting from the University of Massachusetts at Amherst and a Master of Business Administration from Babson College. She is a Certified Compensation Professional (CCP) by WorldatWork and an active member of many industry associations. Aria is based in greater Boston.
Edward Speidel:
Edward J. Speidel has 20 years of experience in executive and equity compensation, corporate governance and employee benefits consulting. His clientele consists of companies of varying size and complexity, in a wide array of industries. He maintains a strong focus on the high technology communities, with emphasis in e-commerce, semiconductors, software, and life sciences firms.
Prior to joining Radford, Ed was principal and national executive compensation practice leader for Mellon Human Resources & Investor Solutions (formerly Buck Consultants). Before Mellon, Ed was managing director of the Northeast compensation practice for PricewaterhouseCoopers.
Ed earned a bachelor of arts in economics from University of Delaware, a master of business administration from Lehigh University, a juris doctorate from New England Law, and a master of laws in taxation from Boston University School of Law. In addition, he is a certified compensation, benefits, and equity professional, respectively. Ed writes and speaks frequently on executive and equity compensation issues. He is based in Boston.
---